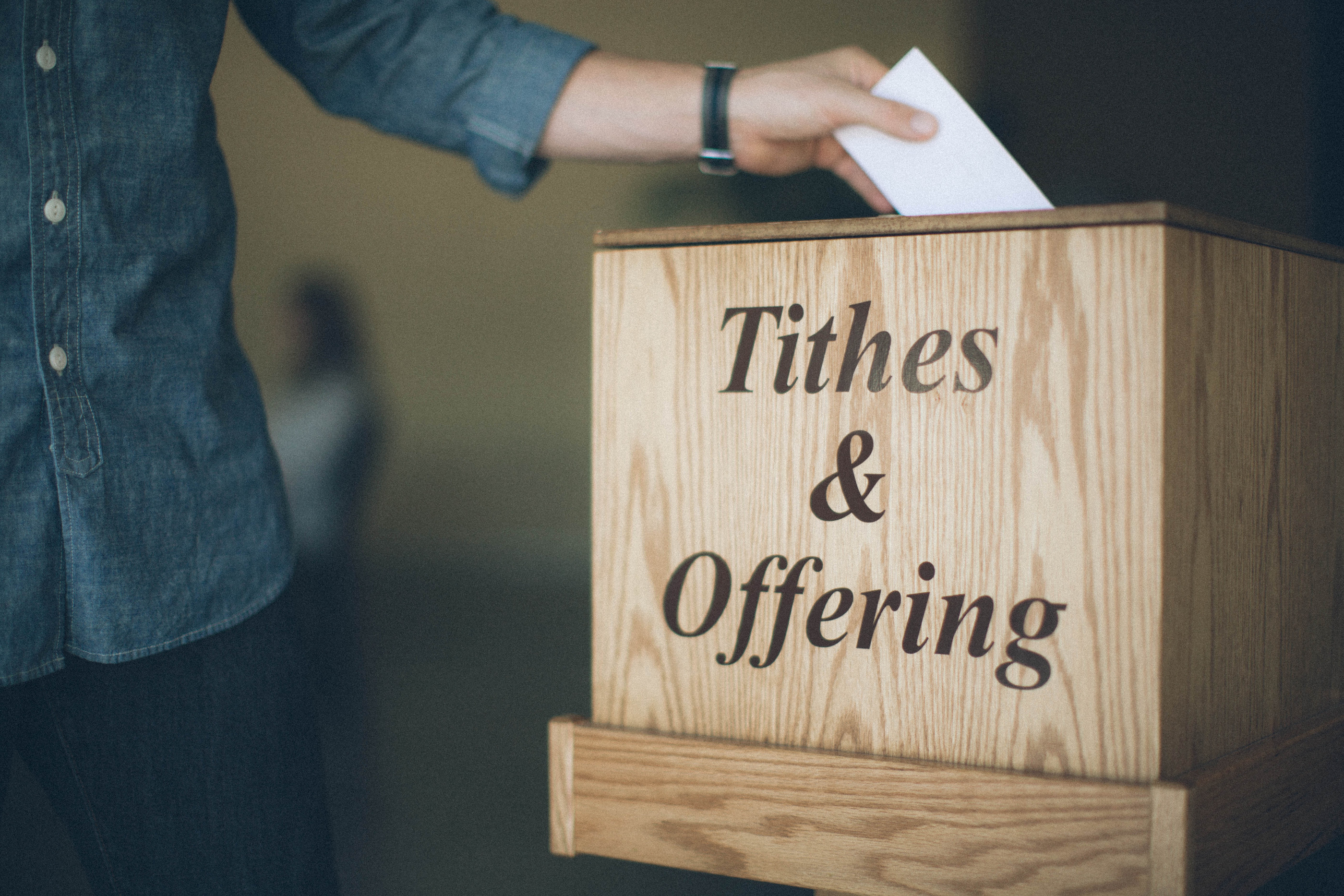 All too often we as the Lord's Elijah message messengers see disappointment after disappointment. We work in the Lord's vineyard and it seems that we witness few changes in our churches. Abominations which we are to "sigh and cry" against (Ezek.9 and Testimonies, vol. 3, p.267) continue unabated. Yet, when we hear of good news we are like our Lord —
"When Jesus heard this, he was amazed at him, and turning to the crowd following him, he said, "I tell you, I have not found such great faith even in Israel."(Luke 7:9)
Such is the good news we heard from one of our sisters in the faith recently. She called and excitingly told us of the Chowcilla S.D.A Church in northern California. She explained that she was pleasantly surprised when she walked into the church and noticed a Tithe Box secured against the wall for receiving the Tithe donations. She further found out that this church DOES NOT pass the church bag around compelling members to donate. Wow! True reason to say Praise the Lord!
As we all know as Seventh-day Adventists, this bag passing has been a standard custom in our church ever since our prophetess died in 1915. For those who would like to see our prior posts on some history of tithe collection see this link —
https://godsloveandlaw.com/2015/05/23/the-collection-box/
We really don't know how this started but it's a good bet that the Roman custom infiltrated our churches. The message explains –
"What a privilege and what an opportunity is now ours! Look and see what a difference there is between God's method for supporting His work, and the Roman system that is now carried on by the church: plate-passing, high-powered speeches, Big Day, Book Day, high pressuring, campaigning, selling, auctioneering, Harvest Ingathering, birthday offerings, Christmas-tree hangings, baby weighings, Dorcas sales, investment funds, and what not!  As none of these squeezings are Biblical, and as all of them are Pagan in origin and condemned by the Scriptures, they could not possibly be considered freewill offerings. Search and see.
Instead of Sabbath-keeping the day is devoted to money raising, and instead of a house of worship, the church is turned into a den of thieves — disgusting to observers, and most discouraging for a member to invite a friend or a neighbor to a church service.  Is there any wonder that God does not now bring many into the church ("Testimonies," Vol. 6, p. 371)?
It was this sort of thing that aroused Luther to action as he saw the priests living in luxury by exploiting the people's conscience and by making the poor poorer.  True worship and God's plan for supporting the work must now be restored." (Jezreeel Letter, no.9, p.8)
To be sure, we serve a Holy God. One that is particular and certainly not like us. He has sent His last messenger to us to let us know this bag passing/money solicitation in His house is "condemned by Scriptures" and not considered "freewill offerings".
"These things you have done, and I have been silent; you thought that I was one like yourself. But now I rebuke you and lay the charge before you." (Psalms 50:21)
Yes brethren there is our ways then there is God's way. Unfortunately Satan specializes in blurring the two! I was once a regular partaker in this bag passing and solicitation of funds every Sabbath, being a deacon who led out in bag passing. For I knew no better, until advanced light came and I could see this issue as the Lord sees it.
Isn't it wonderful when the Lord always gives us an out. Today we have online payment systems which gives ample opportunity to avoid such abomination.
"The Lord knoweth how to deliver the godly out of temptations …" (2 Peter 2:9)
But when we begin to "reform" we do so bit by bit both individually and corporately, as the message explains —
"Correct your habits. "Cast away from you all your transgressions, whereby ye have transgressed; and make you a new heart and a new spirit: for why will ye die, O house of Israel? For I have no pleasure in the death of him that dieth, saith the Lord God: wherefore turn yourselves, and live ye." (Ezek. 18:31, 32.)
    You may not understand all there is about it, but that would not excuse you from doing faithfully the little things which you already perfectly know. Start with the A B C's in the science of reform as you would in a grade school, gradually climbing up the ladder of perfection as you would from the first grade up to a course in a. university. As you are unable to understand in the schools of the world the higher grades ahead of the lower, so you will never learn all the science in physiology or the mysteries in the laws of God from its heights down or all at once. Moreover, if you are not willing to do correctly the little things in life, what will it compel you to agonize in prayer for the power you need to accomplish the great thing?
   No one can successfully be promoted to a higher position until he proves true and proficient in a lower place. Says the apostle Paul: "Whether therefore ye eat, or drink, or whatsoever ye do, do all to the glory of God." That is, no one can in a haphazard manner do the necessary things of life and yet stand innocent before the Lord. His command is: "Be ye therefore perfect, even as your Father which is in heaven is perfect." (Matt. 5:48.) (Sym. Code, vol. 2, no.1, p.3)
This church has taken that small step in righting a wrong before the Lord, and it can only bring blessings. No doubt there is much work to be done still in the Chowcilla church, yet this seemingly small thing is truly a BIG thing, when we think about the roughly 95% other S.D.A churches who commit the Roman custom abomination in God's house Sabbath after Sabbath. In other words this stance is breaking away from the prevalent cattle like herd mentality of following the Roman custom!
SOP tells us that  "those only who sigh and cry for all the abominations done in the church"  will receive the seal of God (pure mark of truth).
"Those who receive the pure mark of truth, wrought in them by the power of the Holy Ghost, represented by a mark by the man in linen, are those "that sigh and that cry for all the abominations that be done" in the church. Their love for purity and the honor and glory of God is such, and they have so clear a view of the exceeding sinfulness of sin, that they are represented as being in agony, even sighing and crying. Read the ninth chapter of Ezekiel." (Testimonies, vol. 3, p.267)
"The day of God's vengeance is just upon us. The seal of God will be placed upon the foreheads of
those only who sigh and cry for the abominations done in the land. Those who link in sympathy with the world are eating and drinking with the drunken and will surely be destroyed with the workers of iniquity. "The eyes of the Lord are over the righteous, and His ears are open unto their prayers: but the face of the Lord is against them that do evil." (Testimonies, vol. 5, p.212)
To be sure, the subject of tithes today is very deep and involves knowing where to tithe as well as how to collect tithes. But as mentioned by Inspiration above, the small steps must be taken first then advancement comes. But advance we must. If we don't want to, we have the "need of nothing" Laodicean malady.
In closing let us rejoice in this small but significant step. We are in the process of trying to get in touch with the leadership in this church and hope to encourage them to keep up the good work and advance further in the Lord's way.