Many of us have heard about the horrible Waco events that took place in Waco Texas between February 28 and April 19, 1993. The nation was spellbound as a cult known as Branch Davidians exchanged gun fire with ATF agents, along with Military personnel. The end result was pure disaster and disillusionment.
But unbeknownst to many is the very important "back story" of these events. There is a spiritual aspect of it that needs to be told in order to see the "big picture". Let us look into this sad part of our American history and find some reasons for it.
In Ephesians 6:12 we read —
"For we wrestle not against flesh and blood, but against principalities, against powers, against the rulers of the darkness of this world, against spiritual wickedness in high places."
These tragic actions did not happen by chance, no, it was well orchestrated and led by none other than the great adversary himself. You will soon see why and for what purpose.
Our story begins with a man named Benjamin L. Roden.
Ben was an auto mechanic and we gain light from a judge by the name of Bill Logue, who presided over some court action that Ben Roden and his family were involved in.
"Brother Ben was an auto mechanic. Also, he was an organic farmer. And he tried unsuccessfully to have an organic farm out there at Elk. Brother Ben was on the stand, and he was—he testified, I don't know—he was back out in Odessa, and he was underneath some old '36 Chevrolet or Ford or something, and the Good Lord spoke to him. And I may embellish it a little bit, but the gist of it was that the Good Lord spoke to him and told him to go back to the site, to Elk, and to lead his people, okay?" (Baylor University Institute For Oral History, Memoirs of Bill C. Logue, p.7)
http://digitalcollections.baylor.edu/cdm/compoundobject/collection/buioh/id/2878/rec/1
A little history on Ben. He was a part-time student of Victor Houteff, the leader of the Shepherd's Rod/ Davidian Seventh-day Adventists. Not to be confused with Branch Davidians. He came onto Mt. Carmel occasionally, which was the name of the large sprawling property of some 380 acres, which was where the DSDA association was established and it's close members lived. He attended some presentations by Victor and soon expressed a desire to be involved in the movement.
However from all available records Ben was not a close associated member of the group. More of an occasional member with limited interest in joining up with the DSDA. For all appearances, it looks like Ben had his own reasons for learning Victor's message and this will become clearer as we continue. As we just read from Judge Logue, according to Ben, he was given a direct revelation to "lead" God's people.
Ben Roden is one of the key players in our story so it is necessary in finding out who he was. George Saether was one of Victor Houteff's close members, even being on the executive council on Mt. Carmel, during Victor's time. George as well, has his memoirs at Baylor. In them, George describes a not so flattering picture of Ben. It appears that Ben's true motives surfaced upon the death of Victor Houteff, let us read–
SAETHER: Roden …was here on a visit in about 1943, 1944, 1945—something like that (Mt. Carmel property). Stayed two or three days and then he came back in 1953. He ran a garden down along the lake. (Parenthesis ours, Baylor Interview,no.8, p.336)
"They didn't tell us who The Branch was for a long time. Finally, it was Brother Roden. He acted like he was modest but we subsequently found out that this modesty was just all put on….
McGEE: All right. He was with this group from Odessa and they were talking about The Branch which was the term which he had created or they had created to describe their particular movement?"
SAETHER: "That's right." (no. 8, p.360-363)
Later on in the interview Saether, reveals a shocking revelation about what Roden thought of his actions in regards to their original Branch letter they sent to Mt. Carmel warning them that they were coming with a  serious message from the Lord –
"Brother and Sister Roden were here. We were nice to 'em and we were in our living room here where we used to live. They were gonna go then and we had a nice visit. Mrs. Roden and my wife went out of the
living room first and Brother Roden and I loitered along. Anyway, he said this—he thought this was quite a joke—he's not as keen as his wife. She was sharp. He said this, "My sister lives in Springfield, Missouri and she mailed that letter for us." (laughter) He let the cat out of the bag…." (parenthesis is Saether)
"..those people are deceitful, those Rodens. Deceitful. They're treacherous. Because they're possessed of the devil. They must be. They've resorted to various forms of incantation… 
Roden was in there. He wanted to buy some charts and Hermanson asked him, "Are you prepared to pay your bill here?" When he came here as a gardener he ran quite a bill. He just ignored what he said. He didn't pay any attention to it. I'm pretty sure that he still owes that bill. He didn't pay it.
He volunteered to come and have an organic garden. It takes something to put a large family—to come and stay for months at a time and no income. That was his agreement but he owed this seven hundred dollars anyway, for rent and food and one thing and another. That indicates the kind of a leader they had behind them. It's of the devil. ..I understood that afterwards Roden claimed to be a prophet and the leader."(Interview no. 8, p.372-373)
http://digitalcollections.baylor.edu/cdm/ref/collection/buioh/id/1214
Apparently the flock was much the wiser to Roden's imitation message , Saether comments–
McGEE: Were there any others around that time of significance that supported Roden?

SAETHER: None of the Waco people or Mt. Carmel people. Only this man, Jones. He was just a young man  (Baylor Interview no.9, p.416)
http://digitalcollections.baylor.edu/cdm/ref/collection/buioh/id/1214
NOTE: this young man turned out to be Perry Jones, a Branch Davidian leader, who later was killed in the Waco fire. Sadly Jones kept going with his false prophets and went from Roden to Koresh.

(George Saether interviewed by Professor MeGee)
Now the Scriptures say —
"Every matter must be established by the testimony of two or three witnesses." (2 Cor. 13:1)
Saether's charge was a serious one, not at all to be taken lightly, especially since Benjamin Roden is none other than–the ORIGINATOR OF THE BRANCH DAVIDIANS. In other words, not only in the months after the death of Victor Houteff (Feb. 5, 1955), but in David Koresh's time and even today, the Branch Davidian theology is active and recruiting. Thus people really need to know their  history and who is who , what is what, before they jump "all in" with their soul and with their eternal life at stake! Satan is sneaky brethren!
So do we have another witness or two to collaborate Saether's report? Yes. The name of this witness is  Bonnie Smith. We have had a good relationship with her over the years and have had the privilege of speaking to her about the "old days" when she was on the camp with Victor and many other DSDA. This woman probably has the most eye-witness information existing today. She was on the camp for about 20 years. Being in her eighties she still has a sharp mind and proclaims the message.But she has vivid memories of  Ben Roden and what happened to her parents.
Soon after VTH died Roden spread the message that the people needed to get back to Israel (This was after Roden already produced some writings for his Branch message). He also promoted the message that because Victor Houteff had died he could not be the true Elijah, because he was not translated as Elijah was in type. The inference being that he, Ben Roden, was indeed the real Elijah* who would not die. So he announced publicly that all those who would like to join him in the trip to Israel, and who paid upfront, would come with him. (* witnessed by another original camp member Don Adair , "A Davidian Testimony", p.211)
Roden got some people to sign up. Two of those was sister Bonnie Smith's parents.  Sister Bonnie relayed to us that they paid about 1000.00. Soon Roden and a few others left for Israel but the Smith family was not taken, simply ignored and passed by, even though they paid upfront. The money was stolen.
Bewildered because they believed in Roden and his so-called "inspired" message, as the primary fulfillment of the Elijah to come. He died in 1978. They were really dumbfounded that he would rip them off. Why?? This was so wrong at a very basic Christian level, that it made for true bewilderment. 
Roden, after trying to establish a good foothold in Israel, didn't achieve his goals and came back. Never, and this is key, did Roden reach out to the Smith family again! He was aware of their inquiry on what happened–yet ignored them to the very day of his death!

(Picture of Abe Smith on left who was Sister Bonnie's father, Lois Roden in middle and Verlis Johnson-right)  ** Special thanks to Brother Trevor Bingham.
Later Bonnie's parents told sister Bonnie, they regretted following Roden, as he was not right and may God forgive him. Sister Bonnie had pleaded with them for years to quit with Roden's imitation Davidian message. She knew from her own eye witness (same as Don Adair, George Saether) that the pioneers (including VTH) were not supportive of Roden, due to (among other things) him being a thief when he rung up large bills for his garden during his visits to old Mt. Carmel. They too were never paid as George Saether reported.
"And if I say to a wicked person, 'You will surely die,' but they then turn away from their sin and do what is just and right–if the wicked restores the pledge, gives back what he has taken by robbery, and walks in the statutes of life, not doing injustice, he shall surely live; he shall not die.None of their past sins will be brought up again, for they have done what is just and right, and they will surely live." (Ezek. 33:14-16)
Before we get to our third and last witness, Don Adair, we should point out that all these witnesses had   no personal animosity towards Roden, simply they wanted the truth spoken of this man and his deceptions  in order to warn the flock, lest they be snared by a false prophet dressed in "robes of light".
Don Adair, is one of the other living members along with Bonnie. He's written a book about his DSDA life and has much to say about Ben Roden. We highly suggest you read it called "A Davidian Testimony".
He tells of Roden —
"Ben L. Roden was the first "usurper" and false prophet who was like a vulture, circling around old Mt. Carmel waiting for Bro. Houteff to die. And as soon as he died, he came swooping down to appear among the Davidians, and claimed that he was the Elijah who would never die! ….Ben Roden was a hypocrite and apostate who hated the SRod message, which he said he believed. That's why he claimed Bro. Houteff was not Elijah because he died, and did not restore the literal kingdom in Jerusalem.Obviously, that is why he went to the city of Jerusalem in the New State of Israel to set up God's kingdom there. 
After all, he could tell them that he was a Jew and Elijah the prophet who would never die…. But it failed, obviously because the Jews would not follow him as their new king David.. What he started in America, however, did not fail; it caused a split among Davidians, leaving everyone to choose between one of two Elijahs."  ( A Davidian Testimony, p.190,197)
So our three witnesses, all of whom were original Davidian Seventh-day Adventists, confirmed and established who and what Benjamin Roden was about. But Satan set up his plan in establishing this "new prophet" and the groundwork was laid for his future plans. Who in their right mind would claim that a man who bears such fruit –thievery, incantation, false predictions,etc could indeed be a "true" prophet of God? That is to amount to –blasphemy through blindness.
"Beware of false prophets, who come to you in sheep's clothing, but inwardly they are ravenous wolves. You will know them by their fruits. Do men gather grapes from thornbushes or figs from thistles? Even so, every good tree bears good fruit, but a bad tree bears bad fruit. A good tree cannot bear bad fruit, nor can a bad tree bear good fruit. Every tree that does not bear good fruit is cut down and thrown into the fire. Therefore by their fruits you will know them." (Matt.7:15-20)
Our Lord said twice to emphasize an important lesson –we shall know them by their fruits.
There is often the feedback from those snared in Roden's work, that upon hearing these witnesses,they revert back to Moses and  king David,  "Well both Moses and David were faulty men, who even committed murder, yet they were God's prophets."  
Both of those men of God REPENTED prior to writing God's message entrusted to them. Roden never repented and still claimed inspiration, an utter mockery of God's justice and law.
At this point we should explain some of the major differences of Ben Roden's doctrines versus the original Davidian S.D.A.
–We must keep the Feast days in order to please God.
This not only flies in the face of the Lord's Rod (Timely Greetings, vol. 2, no.37, p.14-15) but it strikes at the heart of Lord's message through Apostle Paul's as well —
"But now, after that ye have known God, or rather are known of God, how turn ye again to the weak and beggarly elements, where unto ye desire again to be in bondage? Ye observe days, and months, and times, and years. I am afraid of you, lest I have bestowed upon you labor in vain." (Galatians 4:9-11)
–There is other prophets after the promised Elijah to come of Mal. 4:5
Where in the Bible? Isn't there only ONE prophet told of the Lord to come before the great and dreadful day? Further, as clear as words can make it , the Lord's Rod says the Elijah to come is the "very last" messenger to God's S.D.A church (Jezreel letters, no. 9, p.1). The words "very last" cannot be misinterpreted.
There is a crafty justification that some Branch Davidians use showing that the Scriptures point to another messenger and that is their interpretation of Rev. 14:17,18. They teach that after Houteff's message, the other angel ( verse 17,18) is symbolic of Ben Roden and his message.
This once again shows the folly of the Branch movement, on the one hand they agree that Victor Houteff was inspired and indeed "a prophet", yet they pick and choose what to believe and follow! The original DSDA message makes clear what these verses symbolize–
Isa. 63:5 — "And I looked, and there was none to help; and I wondered that there was none to uphold: therefore Mine own arm brought salvation unto Me; and My fury, it upheld Me."
   Here you note that when the time came there was not even one among His servants "to uphold" the work of the harvest, and consequently the Lord Himself did the work without them.
   For the second reaping, however, He uses His guileless "servants," the "firstfruits," the 144,000, as prefigured by the angel with the sharp sickle (Rev. 14:17, 18).  (Timely Greeting, vol. 2, no. 44, p.38)
No it is not Ben Roden, it's symbolic of the 144,000. You see Roden needed to find somewhere in the Bible some Scripture that pointed to him, sadly he found some misguided souls who bought it , hook , line and sinker.
–The Holy Spirit is a female being, the "Mother God".
Both SOP and the Rod do not teach such things. Only in Ben Roden and his wife, Lois Roden's fertile imagination does such teachings  promulgate in the field to hook and to snare.
This concludes our first post. Next week we'll conclude with part two.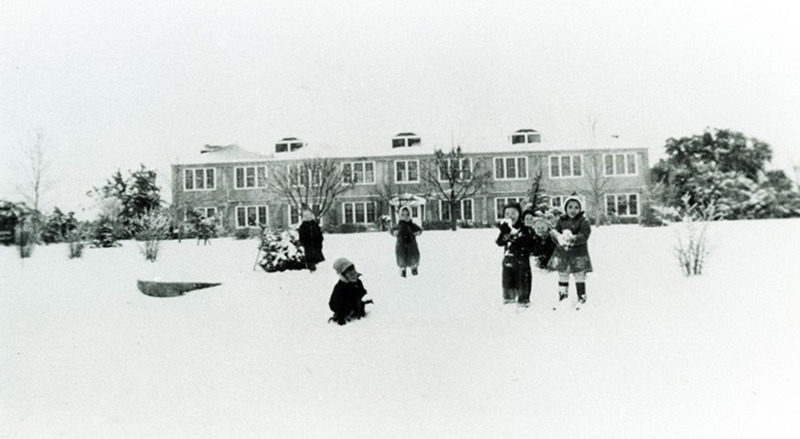 Young children playing in the snow on the original Mt. Carmel, run by Victor Houteff (1935-1955). The main building of the organization (B-8) is seen in the background.