Some of you may remember a chart-topping smash hit from Al Wilson back in 1968 called "The Snake". Not only did it have a catchy beat but the lyrics had a solemn story of deception. The following are the haunting lyrics —
On her way to work one morning
Down the path alongside the lake
A tender-hearted woman saw a poor half-frozen snake
His pretty colored skin had been all frosted with the dew
"Oh well," she cried, "I'll take you in and I'll take care of you"
"Take me in oh tender woman (come on in)
Take me in, for heaven's sake (come on in)
Take me in tender woman," sighed the snake
She wrapped him up all cozy in a curvature of silk
And then laid him by the fireside with some honey and some milk
Now she hurried home from work that night as soon as she arrived
She found that pretty snake she'd taken in had been revived
"Take me in, oh tender woman (come on in)
Take me in, for heaven's sake (come on in)
Take me in tender woman," sighed the snake
Now she clutched him to her bosom, "You're so beautiful," she cried
"But if I hadn't brought you in by now you might have died"
Now she stroked his pretty skin again and then kissed and held him tight
But instead of saying thanks that snake gave her a vicious bite (oh…)
"Take me in, oh tender woman (come on in)
Take me in, for heaven's sake (come on in)
Take me in tender woman," sighed the snake
"I saved you!" cried the woman, and you bit me even while, and you know your bite
is poisonous and now I'm gonna die! "Oh shut up silly woman" said the reptile with a grin "Now you know darn well I was a snake before you brought me in"
"Please take me in, oh tender woman (come on in)
Take me in, for heaven's sake (come on in)
Take me in tender woman," sighed the snake
sighed the snake
Take me in tender woman
The purpose of why we are highlighting this song/lyrics is because President Trump has repeatedly used these words in some of his political rallies for over 3 years now. The latest usage was in his New Hampshire rally this week. As he read back the words of the hit song, he used the excuse that the story was about "immigration" implying that some immigrants are like snakes who want to come in and then do bad things. But we think there may be a much more subtle reason, a subtle prophetic reason.
A while back we did the following post —
https://godsloveandlaw.com/2017/10/28/and-his-number-is-666/
In it, we showed how president Trump continually exhibited the 666 hand sign while giving speeches. And as we know Rev. 13:18 speaks of the following —
"Here is wisdom. Let him that hath understanding count the number of the beast: for it is the number of a man; and his number is Six hundred threescore and six."
Now to be clear, we are not saying FOR SURE that Trump is the 666 man mentioned in Revelation but we do need to be aware of the surrounding circumstances. Below is a recent picture taken in the White House with Sunday keeping religious leaders and Trump.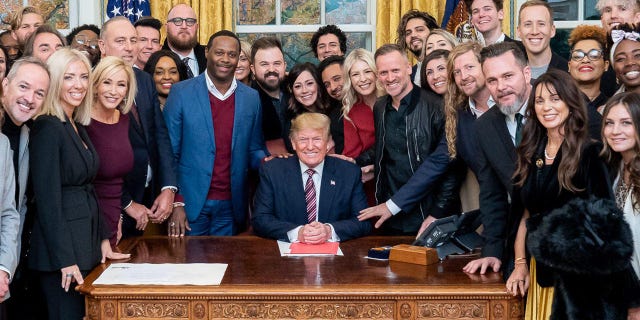 Recently an article appeared with highly popular "prophet" Shawn Bolz.
It read in part — "After Trump took historic action moving the U.S. Embassy in Israel from Tel Aviv to Jerusalem, Bolz said Trump is going to continue fighting for Israel and establishing more credibility for the Jewish State in the Middle East, partly because Trump isn't afraid of the backlash. Trump will "fight for Israel until they have a lot more than what they've had" in what's been a hostile environment."
Other world-renown Sunday leaders such as Billy Graham's son — Franklin Graham, have been a big Trump supporter as well. So it is clear the close relationship is already there among his constituents, the Sunday worship community. They are all ears, in other words, to what he is saying in regards to religion.
The Sunday keeping community has long believed that in 1948 "God" restored His people (Jews) to their homeland to fulfill numerous prophecies. In Romans 11:25-26 we read–
"For I would not, brethren, that ye should be ignorant of this mystery, lest ye should be wise in your own conceits; that blindness in part is happened to Israel, until the fulness of the Gentiles have come in. And so all Israel shall be saved: as it is written, There shall come out of Zion the Deliverer and shall turn away ungodliness from Jacob."
Thus they have totally misinterpreted the Scriptures to say that God will magically force the hearts of the unbelieving Jews there today, to come to Jesus. You might call it a — God spell put upon them! Total Blasphemy!
The Lord's Elijah message does indeed give us the right interpretation of Romans 11:25-26 —
"ALL OR A REMNANT–WHICH?
Question No. 64:
Romans 9:27 says that a "remnant" of Israel will be saved, but Romans 11:26 says that "all" Israel will be saved. I do not understand this. Can you help me?
Answer:
Romans 9:27 is speaking of Israel as a nation, of which only a remnant will be saved; whereas Romans 11:26 is referring to the elect of Israel as individuals, all of whom will be saved." (Answerer, vol. 3, p.51)
 Jesus was clear about this, as He spoke to the unbelieving Jews —
"Therefore I tell you that the kingdom of God will be taken away from you and given to a people who will produce its fruit."(Matt. 21″43)
So today Trump is seen as a sort of close friend to the Sunday evangelicals and the Sunday keeping community at large. Afterall he has recently moved the USA embassy to Jerusalem and the leaders of Israel certainly admire him. And just more recently he and Benjamin Netanyahu have compiled an "Israel/Palestine" peace agreement, which by the way, is totally unacceptable from the Palestinian people's point of view.
To further complicate the relationship with Trump's religious ties, he is additionally looked at as a modern-day "Cyrus". This article explains it —
https://www.theguardian.com/us-news/2020/jan/11/donald-trump-evangelical-christians-cyrus-king
Going back to the snake song words. Instead of what president Trump is using it as (Immigration illustration) we could very well see it as the following:
The Woman, which we know means God's people or church in Scripture, and in this case, representing the Sunday keeping church community, taking in Trump and making him popular. Yet someday he may turn around and bite them! Meaning that he may be the 666 man who establishes, along with the false prophet and the Beast system, the mandatory forced Sunday Law religious system.
Those who know the Scripture prophecies, particularly Revelation, know very well that this whole Law will end up forcing all those who accept it — into eternal damnation!
"And the beast was taken, and with him the false prophet that wrought miracles before him, with which he deceived them that had received the mark of the beast, and them that worshipped his image. These both were cast alive into a lake of fire burning with brimstone." (Revelation 19:20)
So is Trump reading a prophetic statement, concerning himself,  from a song long ago popular called the "The Snake"? Is he, like that snake, playing into their kindness and gullibility? As far as we know he does not know prophecy well, and so he could not even be aware of his own sinister role he plays soon. Only time will tell.