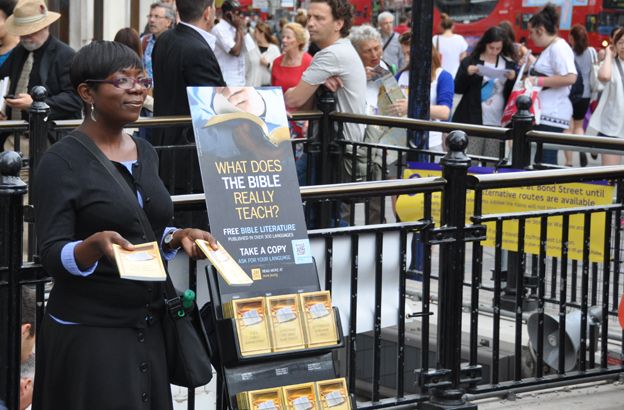 Many Christians are very familiar with what is known as the "Great Commision". In Matthew we read–
"Go ye therefore, and teach all nations, baptizing them in the name of the Father, and of the Son, and of the Holy Ghost: Teaching them to observe all things whatsoever I have commanded you: and, lo, I am with you alway, even unto the end of the world. Amen." (Matt: 28:19-20)
Here we see our Lord giving a command to His disciples to "teach all nations" the gospel of Christ. This command has been one of the long-held biblical foundations of the Christian faith. However, we need to discuss this issue particularly as it applies to us Seventh-day Adventists, His remnant church today.
As we have discussed many times on this blog the term "present truth" is just as it sounds– present truth. This Truth is our current road map to the kingdom. The maps of old, present truth from days of old, may or may not be "our" present truth.
As we walk day-to-day in our Christian walk we are to advance in more and more light. This blog is an example of advancing light. On June 26, 2010, we posted how we must being doing this great commission to preach the gospel to all the world. But as we studied and desired for more light, we were "guided into all Truth" by the Great Promiser (John 16:13).
Recently, on our Facebook website "Truth Tellers", while reviewing it, I received a chat message from a brother in Africa , we'll call brother C . He has received the Lord's Rod message materials over the last couple years. But he was excited as he wrote the following —
"Its good to tell you that we have organised a crusade called Paradise Crusade, our aim is to preach to the world, giving hope to the hopeless people and having bible studies and doing efforts in all places.."
I read it and immediately knew that he needed to know the present truth of the situation. As I read it, it reminded me of my prior understanding of Truth (Jesus). For I too was out to "win the world" for Jesus. We put on large billboards in our hometown, I went door to door after Sabbath handing out flyers of 3 ABN and our church.
This week as I was reading some New Testament Scriptures I came across a familiar text that we as believers have read many many times.
"But know this, that if the goodman of the house had known in what watch the thief would come, he would have watched, and would not have suffered his house to be broken up. Therefore be ye also ready: for in such an hour as ye think not the Son of man cometh. Who then is a faithful and wise servant, whom his lord hath made ruler over his household, to give them meat in due season? Blessed is that servant, whom his lord when he cometh shall find so doing. Verily I say unto you, That he shall make him ruler over all his goods." (Matt. 24: 43-47)
As I read this, it took on a whole new fresh meaning. Suddenly I saw it as never before. Allow me to explain.
The Lord is showing that it is He Himself who He is describing. For it is as a" thief" He will be coming.
"Behold, I come as a thief. Blessed is he that watcheth, and keepeth his garments, lest he walk naked, and they see his shame."(Rev.16:15)
Next we see that only those who are "watching" will be prepared. And if we don't our whole house will be broken into (our life destroyed.) But watching for what –the Lord coming in the clouds?  That is not how the "thief" will be coming next. We as present truth believers know He will come "suddenly to His Temple"-His church (Mal. 3:1).
This next part is very very important to concentrate on. Our Lord then shows us who it is that is "faithful and wise". And to him He makes "ruler over his household". It is those who are giving "meat in due season"!
And those servants will "rule over all his goods." Is this not a great promise to those who read these things and heed them?! But did you catch the meat of the text? The Lord is telling us to dispense meat in due season– present truth!
This is where we must have true understanding as Seventh-day Adventists. The message says–
"The mission to save the world cannot be more important than the mission to save the church. Enlarging the church membership under the now prevailing lukewarm Laodicean conditions could no more advance the Kingdom of Christ than could have been done under the condition in the Jewish church in the days of His first advent. Understanding the true situation in the church, John the Baptist and Christ Himself and even the apostles at first, engaged them selves to work, not for the world in general, but only in the interest of their brethren in the church.
  As the same departure from Christ exists within the church now as it did then (Testimonies, Vol. 5, p. 217), it will take much greater effort to rescue the people from the Laodicean "sad deception" (Testimonies. Vol. 3, p. 253), than if they were in heathenism. For in Laodicea they are made to believe that they have all the truth there is to be had, that they are rich, increased with goods, and in need of nothing,—their salvation forever secured as long as they hold membership in the church.
Hence there is greater risk of their losing their souls in the church while she is "lukewarm" and about to be spued out, than if they remain in the world until the church awakes from her slumber, and anoints herself with the eyesalve (Truth)—sees right, does right, and leads and feeds the flock aright."(Answerer, vol. 3, Q-67)
Wow! Do we understand this? There is "greater risk of their losing their souls in the church..than if they remain in the world.." !
We need to understand that there is great accountability upon joining God's people. It's not "fun and games" as so many in our church think today. Our shepherds have so thoroughly given a peace and safety message that the "meat" they are dispensing is worse than the quail given the people in the desert during Moses' day! The same dire result will happen lest we wake up and start giving the people their "meat in due season".
More from the Elijah message–
"..to devote our time to evangelizing the world while neglecting the church, would be a criminal act, one of highest treason both to God and to His people. The church must first be saved from her Laodicean condition of being "wretched, and miserable, and poor, and blind, and naked." She, not the world, is just about to be spued out. She "is the only object on earth on which He bestows His supreme regard."-Testimonies to Ministers, p. 15.
But in her present deplorable state of blindness and destitution as exposed by the True Witness (Rev. 3:14-18), she is utterly unfit for the task assigned her, and must be rescued from her sad deception before she can become a safe refuge and a saving influence to those who would join her ranks. Should God leave her in the Laodicean condition in which she now languishes, not only would she herself be lost but, in consequence, so also would the whole world along with her. He must therefore rouse her up or else raise up another to do the work which remains to be done.
Think, though, what an eternal joy it would be for Him to fit her up and use her to His glory, rather than to have to forsake her! So before raising up another as a last resort, He is trying to save her, and He will save her, as He promises:
"Satan will work his miracles to deceive, he will set up his power as supreme. The church may appear as about to fall, but it does not fall. It remains, while the sinners in Zion will be sifted out. The chaff is separated from the precious wheat. This is a terrible ordeal, but nevertheless it must take place. None but those who have been overcoming by the blood of the Lamb and the word of their testimony will be found with the loyal and true, without spot or stain of sin, without guile in their mouth. The remnant that purify their souls by obeying the truth gather strength from the trying process, exhibiting the beauty of holiness amid the surrounding apostasy ….
"The great issue so near at hand will weed out those whom God has not appointed, and He will have a pure, true, sanctified ministry prepared for the latter rain."-B-55-1886. (Answerer, vol. 2 Q-32)
How can we be practical in dispensing meat in due season to our church?
We can get to know members in our church and have Bible studies. Specifically studying present truth such as Revelation, Malachi, Ezekiel, Isaiah, etc.
We can suggest to them present truth  sites proclaiming the message.
We can suggest to them YouTube videos proclaiming the message.
Make business cards with our name/number to pass out to our friends in the church in case they want to get together for studies.
We can start our own blog website and put links on it to the different recommended present truth sites.
We can pass out present truth literature (CD's DVD's Tracts, etc.)
If we are short on available time we can begin paying Tithes to the present truth organizations, and thus be found giving meat in due season by our financial faithfulness.
In regards to no.7 we read —
"Bring ye all the tithes into the storehouse, that there may be meat in mine house, and prove me now herewith, saith the LORD of hosts, if I will not open you the windows of heaven, and pour you out a blessing, that there shall not be room enough to receive it."(Malachi 3:10)
Ah, the meat in due season can be found there due to the financial faithfulness of His true servants! Those who know where present truth is coming from. If we as Seventh-day Adventists think that our Tithes going to the current General Conference/ local SDA church is producing "meat in due season" then we have a seafront property in Arizona we'd like to sell you.
In closing, in the parable above we see that the Lord is coming as a thief and that He will bless those who He "finds" giving meat in due season. Will you make a commitment to support and get going with your dispensary?
" Your Christian life must take on vigorous and stalwart forms. You can attain to the high standard set before you in the Scriptures, and you must if you would be children of God. You cannot stand still; you must either advance or retrograde." Testimonies, vol. 5, p.264)