The story of Jesus observing the poor old lady , who despite being very poor gave what little she had. The Lord's response is very telling! Let us read —

"And He looked up and saw the rich putting their gifts into the treasury, 2 and He saw also a certain poor widow putting in two mites. So He said, "Truly I say to you that this poor widow has put in more than all; for all these out of their abundance have put in offerings for God, but she out of her poverty put in all the livelihood that she had." (Luke21:1-4)
This act and the Lord's statements show us many many lessons! Let us break them down.

1) The lady was POOR. She had very little in the way of belongings or money.

2) She valued being responbilbe to the Lord even to the point of self sacrifice.

3) The Lord commended her for such faith in returning her tithes to Him.
4) This lesson is a powerful one for us today.

Recently, on our facebook ministry we corresponded with a close sister in the faith. She lives in a very poor part of the world, we're talking VERY poor. Yet, she has found the Lord's final message fo Elijah and , frankly, we can't think of a believer more zealous and faithful then her.

In our talk, we mentioned that the Lord guided us to send a little something her way to help support her in her proclaiming the message. She was thrilled and very thankful. We told her its the Lord's doing and we are just listening to His instructions. This soon led to the subject of tithes.

I made mentioned (as we have posted before) that because we have took seriously returning His money, the Lord has done His part and gave us great blessings and we want to share them. Let us remember that the Lord asks us to enter into a binding contract and He will do His part if we do ours. Let us read —

"Bring ye all the tithes into the storehouse, that there may be meat in mine house, and prove me now herewith, saith the LORD of hosts, if I will not open you the windows of heaven, and pour you out a blessing, that there shall not be room enough to receive it."(Mal. 3:10)

But is the above contract, just for those who are making decent money, or have so much bills that they don't have anything ever, to return His money? The Lord sent us inspired words in regards to this question , let us read —

"IS SMALL INCOME TITHE EXEMPT?
Question No. 158:
As my income is very small, am I not exempt from paying tithe?
Answer:
God designed the plan of systematic benevolence so as to make it as equitable to the poor as to the rich, no more a tax on the mite than on the million. And we know of no Scriptural authority for exempting from tithe any income, however small. All, poor as well as rich, are given the privilege of returning to the Lord His own. Many with a "mite" income are paying both first and second tithe, and in return are receiving a rich bestowal of blessing.
Thus reason forces the conclusion that if one is not obliged to receive charity help in addition to his income (whatever its source) to cover his living expenses, then for him not to pay tithe is to cheat Himself of the abundant blessing which attends a faithful regard for the royal privilege of being one of God's stewards." (Answerer, vol. 5, p.68-87)
There you go! "however small" means we pay , rich or poor. But unfortunately our sister recently spoke to an official member of one of the large present truth organizations and she was told that because she is from a poor country there was no need to pay tithes. What?? I was flabergasted! Coming from a person with little light this is understandable but NOT from a seasoned present truth believer.

Again, Jesus' commendation of the old lady is all we need to know here.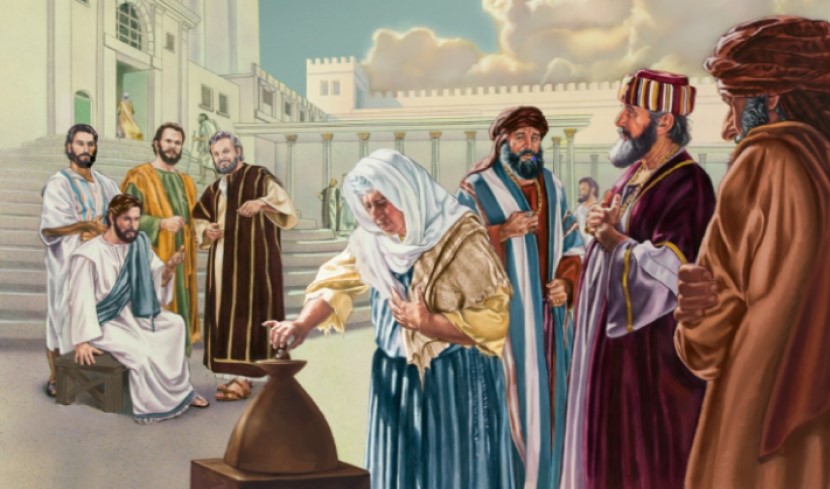 All are entitled to receive the blessings as spoken of in Mal. 3:10 but if the poor are told "don't worry you don't have to enter that agreement with the Lord"–wow! Let us keep this very powerful lesson of the two mites firmly in our mind and proclaim this lesson far and wide! We don't need to deny it or excuse it away.