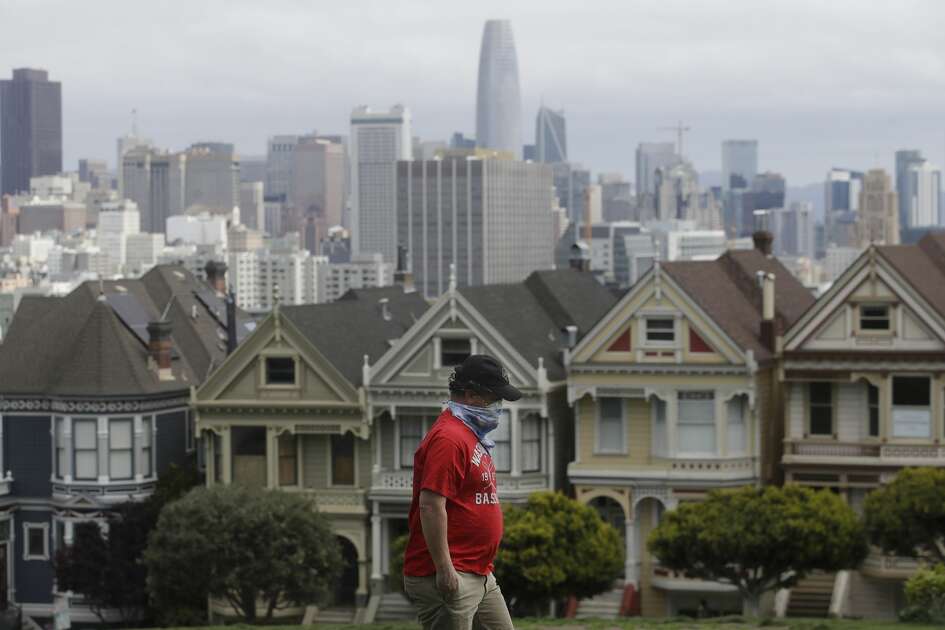 In the above picture, we see a man walking out in the fresh air wearing a mask. No one close to him yet he has a mask on to "protect" him from the big bad monster–the coronavirus! But let us look at this behavior and how this blind faith and total obedience surely is a precursor to a future prophetic event –The Mark of the Beast!
First let us look at the reality of this mask-wearing.
Recently the World health Organization headquarters (W.H.O) made an announcement of mask-wearing. In a recent article in Business Insider, it read —
"The use of face masks on healthy people during the coronavirus pandemic has been a major point of contention and confusion among scientists and the public.
On Friday, the US Centers for Disease Control and Prevention recommended that all Americans wear face masks when they are in public.
But new guidance from the World Health Organization released on Monday says healthy people don't need to wear face masks and that doing so won't provide added protection from the coronavirus.
There's some evidence that caretakers of infected people can protect their health by wearing masks, the WHO guidance said, but "there is currently no evidence that wearing a mask (whether medical or other types) by healthy persons in the wider community setting, including universal community masking, can prevent them from infection with respiratory viruses, including COVID-19." (Dated 4/7/20)
There is much discussion of this as to whether it really protects and safeguards against airborne diseases, ie. coronavirus.
Personally, I can understand a general precaution for public gatherings of condensed people but to wear a mask outside while you are walking in the fresh clean air, or driving in your car –give me a break! No wonder in many cases we are not acting like people but sheeple!
In Scripture we read —
"And deceiveth them that dwell on the earth by the means of those miracles which he had power to do in the sight of the beast; saying to them that dwell on the earth, that they should make an image to the beast, which had the wound by a sword, and did live."(Rev. 13:14)
Deception will be a key trick that the very powerful "false prophet" will use soon. But already we are witness to mass sheep-like obedience! Without common sense, nor even good solid medical sense, many are blindly following orders from "big brother", our government.
So with the already willingness to follow ridiculous commands, how much easier will it be to be swayed by a powerful Satan-inspired "prophet" who shall perform miracles and cause many to cry out in joyful voices–"It is from the Lord!!" ?
As we have posted many times before we will have to make one of two choices –God's team, join the 144,000 warriors of God who proclaim the Loud Cry (Come into His kingdom and obey His Commandments), or the Satanic servants who proclaim Sunday as the worship day of the Lord and demand Sunday worship for the masses, thus getting the Mark of the Beast. Remember this Mark is final for eternity!
No one can remain neutral.
Just as the lack of proper study and seeking REAL information cause many of us to be sheeple in things of this world, the word of God tells us this same laziness will be the undoing of the masses soon in the world that counts–God's final kingdom! Spirit of Prophecy speaks of Satan's trick —
"I will influence popular ministers to turn the attention of their hearers from the commandments of God. That which the Scriptures declare to be a perfect law of liberty shall be represented as a yoke of bondage. The people accept their ministers' explanations of Scripture, and do not investigate for themselves. Therefore by working through the ministers, I can control the people according to my will." (GC, p.338, 1884 edition)
In closing, let us be faithful and smart, willing to listen, learn and study and do as God's Word instructs. Then we shall indeed be God's people not the world's sheeple.
"Study to shew thyself approved unto God, a workman that needeth not to be ashamed, rightly dividing the word of truth." (2 Tim, 2:15)